Reasons for Grape Cultivar Improvement...
---
What is VitisGen?
VitisGen is a large, multi-disciplinary, collaborative project focused on decreasing the time, effort and cost involved in developing the next generation of grapes. VitisGen incorporates cutting edge genomics technology and socioeconomic research into the traditional grape breeding and evaluation process, which will speed up the ability to identify important genes related consumer-valued traits like disease resistance, low temperature tolerance and enhanced fruit quality. Identifying these genes will help grape breeding programs from around the world to more rapidly develop new grape varieties that will appeal to a wide range of consumers, while also addressing grower and producer needs. Additionally, the scientific resources developed during the project will allow scientists and breeders to address other issues and needs that have regional significance, like salinity or drought tolerance.

VitisGen represents a new model of scientific collaboration. The integration of the needs of multiple interests—breeders, growers, fruit processors and consumers—into a single outcome will result in novel grape varieties that are beneficial to producers, processors and consumers.
Click here to learn more about the VitisGen project.
News from VitisGen
Industry Voices in Support of VitisGen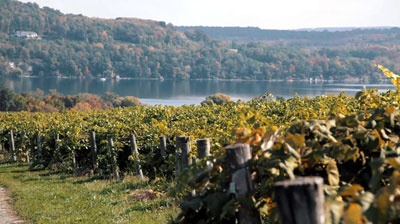 ---
VitisGen Voice newsletter, Issue 3 now available!
The new issue of the VitisGen Voice newsletter is available for download. This issue focuses on the work of the Low Temperature Response Team, which is working to better understand the genetic factors that influence how grapevines survive extreme winter temperatures, and the timing of when vines emerge from dormancy, which can determine whether they suffer early spring frosts or not.
---
Developing The Grapes Of The Future
By: Ann-Marie Jeffries
With a focus on disease resistance and hardiness, researchers are hard at work developing the grape cultivars of the future.

Through a multidisciplinary collaborative project called VitisGen, researchers are are working to decrease the time, effort, and cost of developing these new grapes. Click here to read more.
---
Research Focus: VitisGen
(Appellation Cornell, March 2015)
This article highlights how scientists from across the U.S. are collaborating on VitisGen, a multi-disciplinary project aimed at finding genetic markers for traits like disease resistance, cold temperature tolerance and fruit quality attributes that can be used by breeders to develop better grape varieties. The article details some of the work done by the Breeding, Genetics and Trait Evaluation teams to identify and integrate multiple genes for powdery mildew resistance into new varieties.
---
Updated: 6/21/2015

This site has been developed by the VitisGen Extension and Outreach Team of Mark Kogut, Hans Walter-Peterson, Eric Stafne, Shanna Fellman, James Monahan, and Elizabeth Takacs-VitisGen Project Manager.
---
Funding for VitisGen "Accelerating grape cultivar improvement via phenotyping centers and next generation markers" is provided by a Specialty Crop Research Initiative Competitive Grant, Award No. 2011-51181-30635, of the USDA National Institute of Food and Agriculture. This site is hosted at Cornell University. Copyright © 2015.